Community Information
(Click on image to play video)
2013 – Solaridge Cluster Celebrated its 30th year anniversary
Solaridge Cluster community celebrated its 30th year anniversary in 2013. The first home to be constructed in the community was in 1983 by Warren Katz's Felix Construction. Even though our homes are ~30yrs old we are still proud of their contemporary style and novel design features allowing plenty of natural light to enter the living areas.
Who we are…
The Solaridge Cluster is located in the South Lakes area of Reston, Virginia, a planned community in Fairfax County, northwest of Washington, DC, in the Tysons Corner – Reston – Dulles technology corridor. Half an hour's drive puts us in downtown DC, or in the foothills of the Blue Ridge Mountains. And the Global Internet courses through Reston, both literally in terms of traffic and in terms of the intellectual engine behind its growth.  The recently completed Silver Line metro (Wiehle-Reston East Metro Station) is just minutes away from our community. Emergency services (hospitals, fire and emergency services) are also in close proximity.
What we like about our neighborhood…
Reston has an extensive complex of hiking and bicycling paths, lakes, swimming pools, tennis courts, and neighborhood theatre and arts. The W&OD regional trail is just a half mile away, and is great for jogging, bicycling, and horseback riding.
We have a great selection of restaurants, shopping in our neighborhood centers, an "uptown" at Reston Town Center, and active community theatre and fine arts and crafts movements. And we're located close to Wolf Trap Farm Park, a venue for summer outdoor and winter indoor performances of all sorts.
What we like about Solaridge…
Our Solaridge Cluster patio homes feature winter heat from the sun. Solar attics with large, south-facing windows collect heat on a winter's day, with a blower and duct system bringing the warmth down to our living levels. Our homes are built with natural cedar siding, and feature open floorplans and expansive decks and patios superb for entertaining and casual living.
With thirty-five homes, we have the luxury of being able to know everyone in the neighborhood. Our springtime community clean-up and an annual block party foster a sense of community. Many residents have found "best friends" just down the street.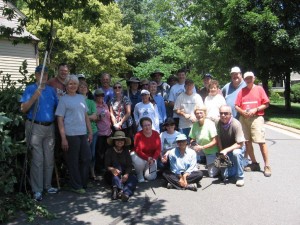 Our history…
Solaridge Cluster was originally built in 1983 by Warren Katz's Felix Construction. Thirty five south-facing solar patio homes were built. Twenty nine of these are two story models, the six homes on the east side of the cluster also have a walk-out basement level.
The basic designs for Solaridge were later used to construct the Southbay community, built in the late 1980's off South Lakes Drive. The houses look very similar, but do not have the solar attics.
Webmaster contact e-mail: webmaster@solaridgecluster.org